Published on 01 Nov 2021
SMART-PDM showcased project results in a Special Session at IEEE IECON 2021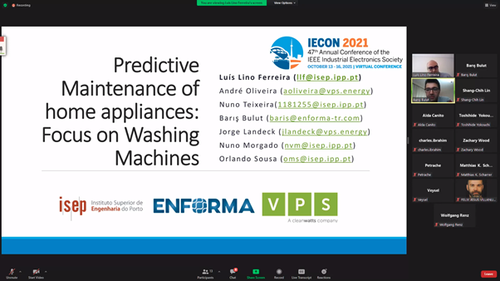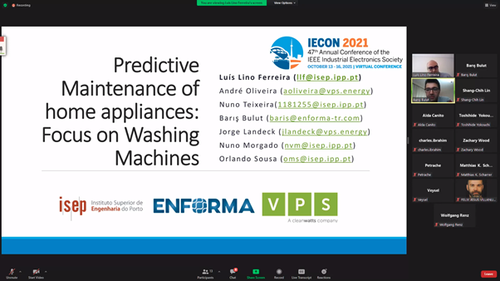 A special session entitled "Predictive Maintenance Architectures and Applications for Industrial Systems" was organised to showcase SMART-PDM's results during the Annual Conference of the IEEE Industrial Electronics Society (IECON), that took place on 13-16 October 2021.
The session was co-organised by Luis Lino Ferreira from ISEP, Portugal, Barış Bulut from Enforma, Turkey, both involved in project SMART-PDM, and Goreti Marreiros (ISEP, Portugal) who is involved in a parallel ITEA project entitled PIANISM.
The following six peer-reviewed papers submitted from around the world were presented at the event:
LSTM-based Anomaly Detection for Railway Vehicle Air-conditioning Unit using Monitoring Data by Toshihide Yokouchi (Railway Technical Research Institute, Japan)
Smart Machine Box with Early Failure Detection for Automatic Tool Changer Subsystem of CNC Machine Tool in the Production Line by Shang-Chih Lin (Intelligent Manufacturing Development Center, Taiwan)
Autonomous CPSoS for Cognitive Large Manufacturing Industries by Felix Jesus Villanueva (University of Castilla-La Mancha, Spain)
Flexible Architecture for Data-Driven Predictive Maintenance with Support for Offline and Online Machine Learning Techniques by Alda Canito (ISEP, Portugal)
Predictive Maintenance of home appliances: Focus on Washing Machines by Luis Lino Ferreira (ISEP, Portugal)
Automated Pipe Inspection Based on Image Processing by Veysel Yüksel (TÜBİTAK RUTE, Turkey)
The session papers provided the audience with a fresh outlook on the recent predictive maintenance applications.
In particular, the paper that emerged from SMART-PDM captured the common work carried out by ISEP (Portugal), VPS (Portugal), and Enforma (Turkey). It focused on SMART-PDM architecture for data acquisition from home appliances with predictive maintenance results from a washing machine. Also worth mentioning is the paper presented by Alda Canito since it was co-authored by Goreti Marreiros, who was also the session co-organiser and is involved in PIANISM. Such collaborations demonstrated not only the inter-partner added value of SMART-PDM, but they were also a nice exercise between the two ITEA projects.
For more information you can contact Luis Lino Ferreira (llf@isep.ipp.pt ) and Barış Bulut (baris@enforma-tr.com).
More information:
https://itea4.org/project/smart-pdm.html